Go to Front End PM page (page which have [front-end-pm] in content and selected as Front End PM page in back-end settings page of this plugin).
First you will see "Message Box". It looks pretty like followings.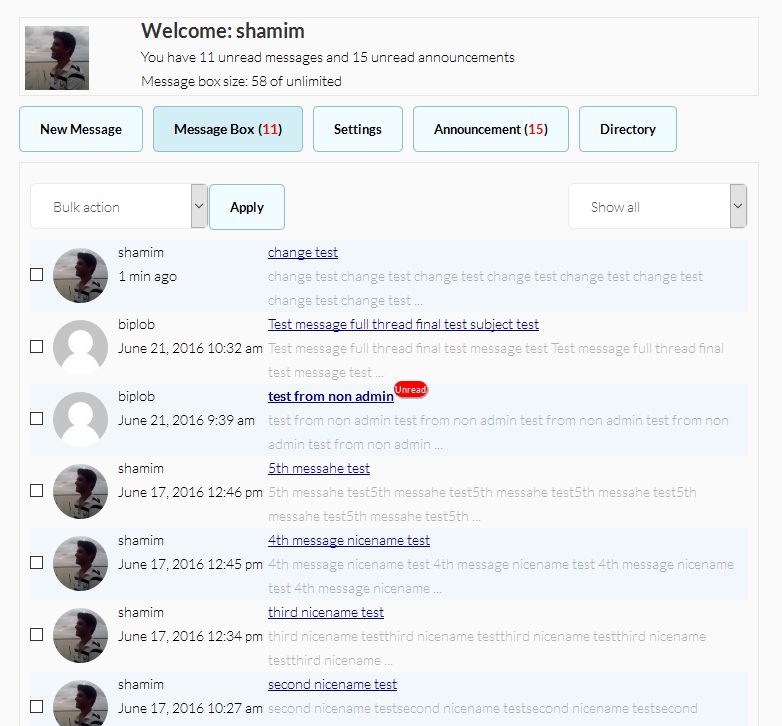 Here you will find all of your messages.
Bulk Actions:
Top left corner you will find "Bulk Actions". Every individual message there is a checkbox. Select any checkbox and perform bulk action. After selecting bulk action you have to click "Apply" to perform action.
Filter:
Top right corner there is a filter dropdown. Select any one and messages will be filtered that way. No need to select any button or Enter.
View Message:
Select Any message which you want to view. You will see full messages including replies if threaded view is selected in back-end settings of this plugin otherwise it will show individual message.
Reply:
If you have "Reply" permission of that message you will see reply form under message where you can reply to that message.
New Message:
Click New Message (if you have send new message permission). New message form will show. Message to field have auto suggestion (if enabled from back-end settings page of this plugin). Start typing name that auto suggestion will auto suggest name.
Fill up title and message then click send.
Settings:
Here users will be able to change their settings.
Announcement:
Here are announcements for users. Remember from FEP ver 4.1 all admin features moved to back-end including "Add announcement". Also now you can publish announcement role wise.
Directory:
Here you can see All users and send them message directly clicking from here.